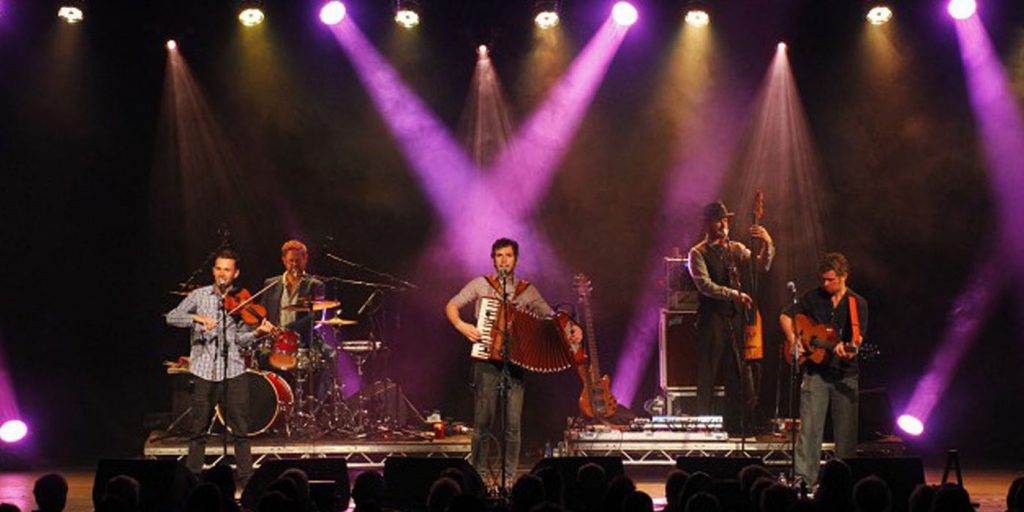 Jamie Smith's MABON is a band beyond borders. Their members range across the British Isles, based in Wales, England and the Isle of Man – and their original, InterCeltic music is rooted in the traditions of all the Celtic countries.
Composer-accordionist Jamie was taken every year by his folk-dancing parents to the mighty Festival Interceltique in Brittany, surrounding him from an early age with music from the Celtic regions and beyond.
From accompanying Welsh dancers at five years old; through early musical friendships with Celtic counterparts; to moving his young family to his wife's native Isle of Man, Jamie's life path is inextricably bound with his pan-Celtic style of composition.
Four firm friends help bring his compositions alive in virtuosic style: Oli, a Welsh fiddler with Balkan flair; Paul, a guitarist from Wales who's more Manx than plenty of people born on the Isle of Man; Matt, a bluegrass-loving bass player from Carmarthen; and Iolo, a drummer from the Welsh woods with a passion for world music and jazz.
No wonder their sound is unique! Uplifting jigs and driving reels sit alongside haunting love-songs and sing-along choruses; add Russian bears, Asturian weekends and Galician pandeirettas for a World Music tour by a truly international Celtic band.
MABON is a band that draws readily on the vast range of its members' influences, but does not attempt to make 'fusion'; instead it is a constant pursuit of integrity in seeking to explore the music that gives them – and their listeners – joy.
Their most notable performances in recent times include WOMAD, Womex, Shetland, Rainforest World Music Festival, Borneo,Fairport's Cropredy Convention, Hebcelt, Celtic Connections, and the massive Festival Interceltique de L'orient, as one major festival after the next becomes unable to ignore the band's quality, sheer exuberance and ever-increasing profile.
Autumn 2015 sew the release of their 5th album 'The Space Between'- a studio release to surpass all four of their previous albums in taste, musicianship, breadth and style. The more established instrumental sound continues to expand to include songs in both English and Welsh language: the instrumental and vocal aspects co-exist happily, bound together by their similar treatment – a genuine pursuit of beautiful, original music through inspired composition, skilful arrangement and exceptional performance.
HISTORY
The band first formed in 1999 playing mostly Welsh Celtic dance music in an acoustic quartet of fiddle, accordion, guitar and percussion.
Soon, Jamie started to experiment with composition, and the traditional Celtic tunes of Mabon's early days gradually made way for his own creations, influenced both by traditional music and by other, more contemporary Celtic artists: the band's first album, Lumps of Mabon (Deleted title), is half each traditional and original music, whereas the second consists nearly entirely of Jamie's original music.
The second major shift in sound came with the addition of bass to the line-up, and Iolo's move to drum kit: and through various permutations, expansions and contractions, the band's core instrumental make-up has remained much the same until today.