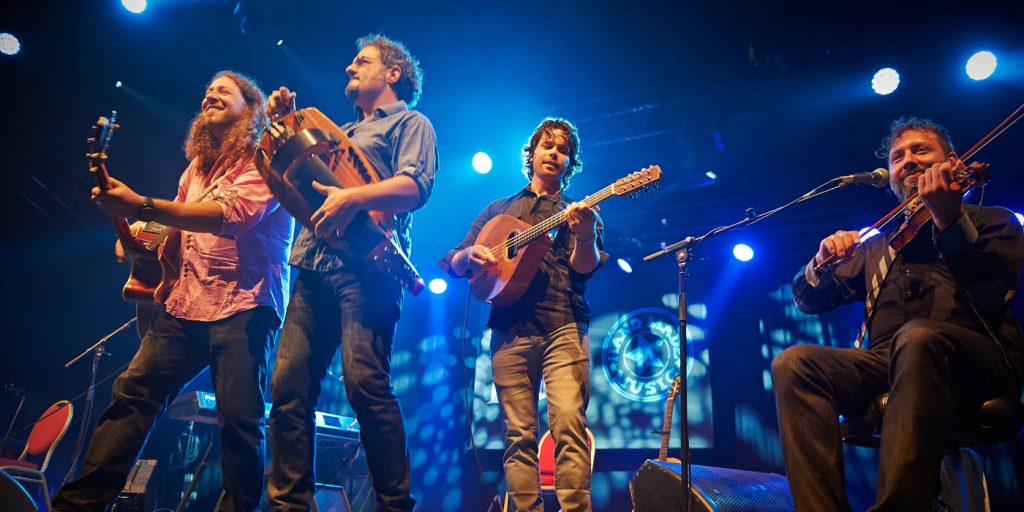 Mouth music and musical families. Deep history and playful innovation. Quebec's Le Vent du Nord knows how to turn the lost past into intense and beautiful performances that push their roots in striking global directions. The group is blazing a path that connects their Québecois roots to the wider world, in both arrangements and on stage.
Considered a driving force in progressive folk, Le Vent du Nord captures the energy and mirth of a Saturday night kitchen party, infusing old Québec with a breath of fresh, cosmopolitan air.
Since its founding in 2002, Le Vent du Nord have become compelling Francophone ambassadors, winning critical acclaim and audience adoration across Europe, Oceania and America. The quartet has performed well over 1,400 concerts, racking up several prestigious awards, including a Grand Prix du Disque Charles Cros, two Junos (Canada's Grammys), a Canadian Folk Music Award, and "Artist of the Year" at the North American Folk Alliance Annual Gala.
The band delivers catchy songs and tunes, some taken from the Québec traditional folk repertoire while others are original compositions. The group has a rich and varied instrumentation, well-polished musical arrangements, and wonderful vocals.
In addition to their traditional repertoire, the group exhibits great finesse and flexibility, appearing regularly on Canadian, American, French, and UK television and radio, and participating in a wide variety of special musical projects. They've collaborated and performed with Harry Manx, Väsen, The Chieftains, Breton musical pioneer Yann-Fañch Kemener, Québecois roots legend and master storyteller Michel Faubert, hip Scottish folk band Breabach, and the trans-Mediterranean ensemble Constantinople.
Not content with standard approaches to tradition, Le Vent du Nord have also created a symphonic concert, presented by the respected Portland Symphony Orchestra and Quebec Symphony Orchestra, that "puts all traditional folk naysayers to shame" (Voir Montreal). This concert has been also presented recently with The Victoria Symphony Orchestra (March 2014).
Having given the Tromper le temps concert 300 times, Le Vent du Nord will soon presents a new show with the songs of Têtu its 8th album to be released in Spring 2015.
More information
Nicolas Boulerice
He grew up with the family repertoire and the songs collected by his father. His passion for traditional music led him to Ireland and France, where he learned to play the hurdy-gurdy. A young, talented and charismatic musician, Nicolas has been roaming the folk circuit for the last ten years, starting out with Ad vielle que Pourra and MontcorbieR. Alongside Olivier Demers, he then recorded the album Le vent du nord est toujours fret… , which was the genesis of Le Vent du Nord. He has also worked alongside several other artists such as the jazz septet Ovo, Les Batinses, Dobacaracol, Les Zapartistes, Benoit Charest and Michel Faubert. He is co-founder & co-organiser of La Veillée de l'avant-Veille (major dance night event in Montreal since 15 years), and also of the Chants de Vielles festival in Québec.
Simon Beaudry
Hailing from Saint-Côme, Québec, an environment where tradition is still very much alive. Simon inherited a solid family musical background from both his grandfathers (one a fiddler, the other a singer) and went on to polish his craft by earning a music degree at Joliette College. He started out by performing, as a solo artist and in a duo with his brother Éric, traditional repertoire and songs from the great québecois songwriters in many cafes around his hometown. Later on, he accompanied the "Petits pas jacadiens" dance troupe of Saint-Jacques-de-Montcalm before joining Le Vent du Nord, with whom he now travels the world, displaying his sweet voice and his rich, personal guitar & bouzouki playing.
Olivier Demers
Trained as a violinist and also a solid guitarist, Olivier started out in chamber music and later moved on to jazz. His great versatility allowed him to work with a wide range of artists (La Bottine Souriante, Michel Faubert, The Bills, Dany Bédar, Boom Desjardins, Les Ours, Mario Pelchat, Ovo) as well as to compose music for the NFB and commercials. He now describes himself as a violoneux (fiddler), having devoted the past ten years of his life to traditional music. He has played with MontcorbieR, was part of the duo Boulerice-Demers (two albums, among which Un peu d'ci, un peu d'ça, rewarded as Canada's best traditional music album for 2006) and has been very active in promoting the tradition as co-founder of La Veillée de l'avant-veille, Roues et Archets record label and as co-organiser of the Chants de Vielles festival in Québec.
Réjean Brunet
Réjean started playing québecois traditional music as a very young boy. After performing with his brother (André, well-known for his work with la Bottine Souriante and the Celtic fiddle festival) as a duo and recording three albums, Réjean joined La Volée d'Castors. He toured with them for 8 years, performing in Europe, Canada and the U.S. as they released 5 albums. Réjean is also frequently invited by traditional musicians such as Sabin Jacques, Richard Forest and Gaston Nolet to join them on stage or in the recording studio. Réjean grew up in the village of Lacolle, Québec; he is, since 2007 showcases his great talent around the world with Le Vent du Nord.