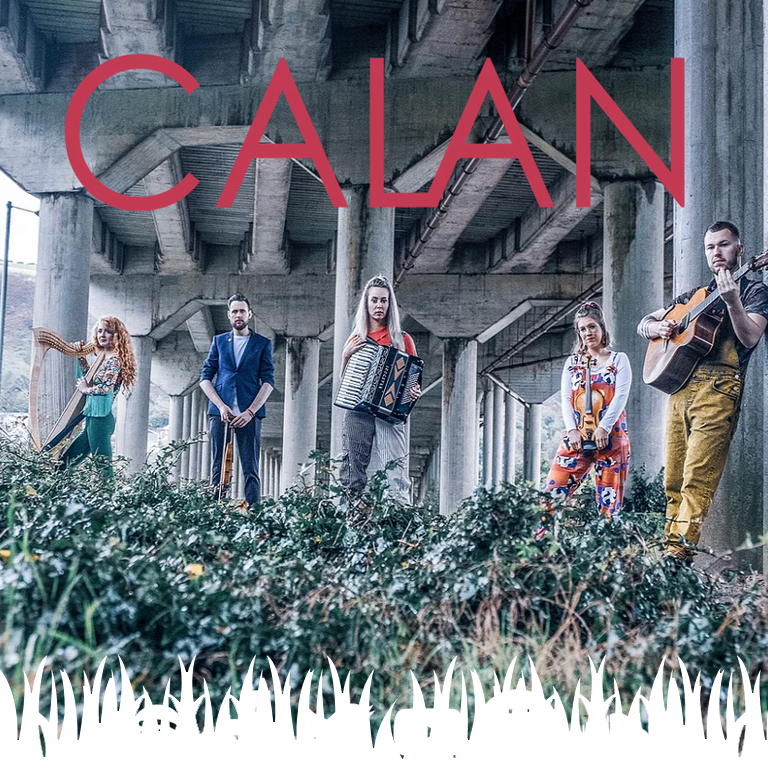 CALAN are a multi award-winning Welsh folk band comprising of five virtuoso musicians formed after they met at a folk music course in Sweden. They won international acclaim at the world-renowned Inter-Celtic Festival in Lorient, France, where they would eventually become the first Welsh ensemble to win the coveted International Band Trophy. In April 2019, they were voted Best Band at the inaugural Wales Folk Awards.
Calan are: Bethan Rhiannon (accordion, vocals, clog dancing); Patrick Rimes (fiddle, Welsh bagpipes); Angharad Jenkins (fiddle); Sam Humphreys (guitar); and Shelley Musker-Turner (harp).
Since they were formed the band has played to audiences numbering from 40 at a garden fete to 26,000 at Fairport Convention's Cropredy Festival in Oxfordshire, but perhaps the most visible was their televised performance from a packed Royal Albert Hall alongside Sir Bryn Terfel and Sting.
The band have so far released six albums (Bling, Jonah, Dinas, Solomon, Deg and A Calan Christmas in Wales) plus the EP Giggly. Their sixth album is called Kistvaen which is an old Welsh word for a tomb. And that's kind of what they do-excavate tombs, find old tunes and bring them back to life for the 21st century.
Bethan Rhiannon sings in both English and Welsh and is also winner of the national clog dance competition in Wales. She learnt her dancing from her father who was also a champion dancer. She has appeared as a music commentator on radio and television and developed and delivered music and dance workshops for young people throughout Wales
Patrick Rimes was junior Celtic Welsh fiddle champion 3 years in succession and plays a multitude of musical instruments including the Welsh bagpipes an instrument popular in Wales and weddings and in the courts and castles of the princes. He has also worked as television music arranger for the singer Bryn Terfel and conducted orchestras.
Angharad Jenkins plays fiddle and is the daughter of a famous Welsh poet Nigel Jenkins and whose mother is Delyth Jenkins is a famous harp player. Here within her family she learnt the poetry and music traditions of Wales. She is also a keen worker in encouraging young people to play traditional music by developing projects and workshops throughout the UK.
Sam Humphreys comes from Llyn Peninsula on the beautiful North West Coast of Wales. His music comes from an altogether different background originally playing rock and electronic music in night clubs before discovering a magic mix of folk and modern styles.
Alongside being a musician, he has recording/producing/mixing credits on a wide range of Artists and styles. He also worked composing for Film and TV and has worked as a television presenter.
Shelley Musker Turner is a harpist who specialises in traditional Celtic folk music from Wales, Scotland and Ireland. She also makes bespoke hand crafted leather goods for hollywood movies.